Photo Sense is a nifty, automated photo editing app for OS X that can bring forgotten photos back to life. It's great for those that don't want a high-end app's expense or steep learning curve.

While Photo Sense isn't cheap, it is competitive with other image editors that are more complicated and don't always give such good results.

Mel Martin, The Unofficial Apple Weblog (TUAW)
Contrary to what one might imagine, there are not so many applications dedicated to automatic image correction, and Photo Sense is almost an exception – a quality one.

Photo Sense is an excellent program that I recommend to all those who feel no particular interest in photo correction, but want to significantly improve the quality of their images without spending hours.

Mathieu Lavant, issue #68 of the Vous et Votre Mac magazine.
Translated from French (read the full review in French).
Photo Sense is so easy to use that anyone can get the gist and make vast improvements to their pictures in just a couple of minutes.

A great app for batch processing, simplistically built and very easy to use.

Photo Sense is one of the most simplistic apps you're ever likely to encounter on the Mac.

Jimmy Hayes, issue #95 of the iCreate magazine (read the full review online or a page scan).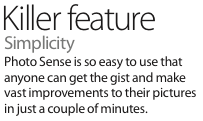 Though Photo Sense is fast and simple, and you can adjust settings manually for more granular control, it really shines in batch photo processing under the automatic settings. Hundreds of photos can be enhanced within minutes.

Photo Sense is for those who don't want to spend hours tweaking a photo to perfection. It's a quick and simple operation to take a bland photo and give it a more vibrant look.

Ron McElfresh, McSolo
Intuitive user interface, beautiful design and interesting photo enhancement algorithm combined with the batch processing function make Photo Sense a useful application for any Mac user who would like to perform a quality photo correction without much effort.

ANJUL, appstudio.org
Translated from Russian (read the full review in Russian).
Photo Sense scored 8 out of 10.
Photo Sense for Mac offers powerful yet easy-to-use tools for effective, automated, and fast photo editing.

Chris Page, CNET
Photo Sense got 3 out of 5 stars ("Good").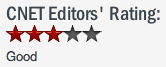 I took a circa 1960's photo that was developed on a matte paper that Kodak was selling at that time. It was quite faded. I scanned it at 600 dpi as a TIFF and had played with a copy using PS Elements, iPhoto and others. As an experienced amateur, I can usually do decent adjustments but these matte photos defy one. In a single drag, Photo Sense made an old photo of mom and grandmother look fantastic. Congrats on an excellent product.

Bob White, Photo Sense user.
VeprIT made the app very easy to navigate to effortlessly achieve the result you're looking for in your photos. The app offers a ton of features and effects from simple one-click filters to more manual options, which let you fine-tune your photo to make it even better and precise.

John Manners, MacTrast
Photo Sense got 3 out of 5 stars ("Good").
I knew that I wanted this application and that it would be useful, but I didn't realize just how useful!

I can't believe how easy it is to now get a group of images into tip-top shape for better reference.

This product has totally saved me a tonne of time and will continue to help me out almost every day from now on, so I really appreciate that you helped me to get this productivity workhorse.

Lloyd, Photo Sense user.
Overwhelmed With Complicated Photo Software? Try Photo Sense!

Photo Sense is worth the price, and an easy way to spruce up your iPhone photos.

If you are not interested in learning how to make changes and adjustments to your photos on your own, Photo Sense lives up to its name and makes a great solution.

Sue Megrund, about Photo Sense for iOS (read the full review)
We are quite successful in using your software for product photography. The workflow is remarkably intuitive and produces good results even with operators who don't have a photography background.

Dr. Roderich Bott, Dr. Bott KG.
I have run a couple of old photos through Photo Sense and the improvement is remarkable.

Alan Pease, Photo Sense user.
Very cool app. Makes your photos look like you knew how to use a camera.

mac-ho, Photo Sense Lite user (from a Mac App Store review).
Most people recommend PhotoShop if you can afford it, or perhaps the Gimp if free software is your thing. Both of these just about require a degree in photo image manipulation in order to achieve anything like satisfactory results. For the 22 Euro price tag, Photo Sense is significantly cheaper than PhotoShop and does all the hard yards for you.

Steve Brown, ReviewMacSoftware.com
Photo Sense can be of help to those who want to improve their images, but have no time to lose, nor the inclination to learn complex or to buy much more expensive software.

E.W.H., imaccanici.org.
Translated from Italian (read the full review in Italian).